HP Greetings on Human Rights Day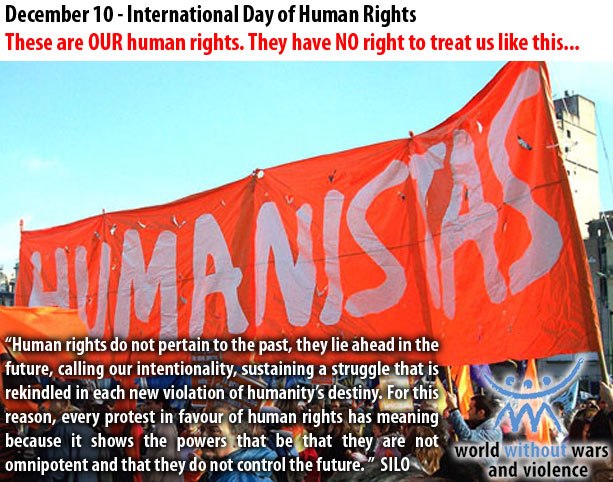 Today, on the International Day of Human Rights, we are reminded of the grim situation that the 99% population faces, the world over - the situation of lack of human rights.

For us, the Human Rights are not a matter of law, but a matter of fact of being born.
For the simple fact that a human is born, she/he has the rights of dignity of life. No law, and none else can deny these rights to anyone under any circumstances whatsoever.

It is clear that our world has lost its direction and human greed has taken over the affairs of life by force and it seems they have built enough of new tools to enslave masses and are all the time trying to perpetuate this slavery.

Humanist Party, was formed by the Change Makers, the world over, formed on 10 December 1984 in India, for the specific purpose of building a moral, non-violent, non-discriminatory platform for the Change Makers of tomorrow. Knowing that the changes can happen suddenly, without a great-detailed planning and method, forced by the increasing violence of the 1%, this platform was built, so that the Change Makers will not have to suffer the loss of time in building a coherent Ideology and a valid Way of Working for themselves.

Once again, we greet everyone on this day and invite you to be part of this humble effort of building the new leadership from grass-roots.