Humanist Party-Campaign for Parliamentary Constituency
Here, we will explain the way to conduct the Humanist Campaign for any constituency for the Parliamentary elections 2009.
The Humanist Party of India (HP) is organized in the following way, in the shape of Councils :
ORGANIZATION
Every Council has its office-bearers (responsible for coordinating the activities) as explained below, along with their functions (tasks and responsibilities).
All members of HP are volunteers and no one earns money from these activities.
Initially all the Secretaries are nominated by consensus among themselves in coordination with a secretary form the higher council, or are nominated by the higher council (usually, the one who launches the HP activities in an area). Later, all the posts are ratified through the Internal Elections of the HP.
This team conducts the Election campaign for our Parliamentary candidate.
BASE COUNCIL : Through their regular activities, they create supporters, affiliates and activists from among their neighbors, thus creating an environment for the Humanist action to happen and transform the situation and people.
We will have one Council for the Constituency and a council for every Polling Booth area as our target for this election campaign.
All the Councils have the following secretaries :
General Secretary

Organizational Secretary

Political Action Secretary

Diffusion Secretary

Relations Secretary

Administration Secretary

Finance Secretary

Social Action Secretary, etc. as required.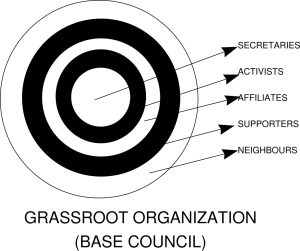 A WELL-FORMED BASE COUNCIL (MINIMAL CONDITIONS)
- 10 Affiliates (4 Secretaries/activists)
- 30 Supporters
- 50 Copies of "The Humanist" sold every month
- Meeting Place
- Internal Elections
Internal elections are conducted once a year for assigning the HP offices democratically. The HP uses the election system of single list with proportional representation. (see note No. 3 in booklet).
SECRETARIATS OF THE BASE COUNCILS
A base council is strong when each and every member contributes in some way towards the fulfillment of actions and objectives. And not when the majority remains idle while everything is carried out by a few activists.
A base council is cohesive and united when all members do the same when the need arises. But, a far better base council is that in which the most dynamic activists take up different functions called: Secretariats.
This division of functions enables the base council to organize and fulfill several actions and objectives simultaneously, instead of sequentially - when everybody does the same thing. This constitutes the essential difference between just a group and an organized, efficient team.
Thus, the combined result of an organized team becomes far more intelligent and efficient than the undifferentiated action of a gang-type group.
A base council can start being called as such, when the following first four secretaries are appointed.
1. GENERAL SECRETARY:
Generally, the activist who starts a new base council or its most dynamic and committed member becomes the General Secretary.
His/her general function is to coordinate the other secretaries and activities, and to be the public representative of the base council.
Regularly - once a week - he/she reports to a higher council member on the activities carried out, results obtained, various developments, plans, etc.
He/she may hold informative/introductory meetings for members and new affiliates, hold interviews and press conferences, give speeches in public, clarify on ideological and organizational matters, etc.
2. ORGANIZATION SECRETARY:
This secretary is responsible for the growth of the base council and its expansion, starting new base councils oriented by the initial one.
He/she suggests and carries out plans/actions for making new affiliates, for appointing more secretaries, for reaching new places, etc.
3. MOBILIZATION SECRETARY (Also called Political Action):
He/she is in charge of planning and organizing campaigns and operations through which the HP participates actively in the political life of the neighborhood as a force to reckon with. Through taking stands on issues, our activists are mobilized for affiliations, rallies, morchas, signatures, strikes, etc so that the base council is seen and felt at large.
The secretary has to be aware of local issues, other political forces and their stands, etc.
4. DIFFUSION SECRETARY (Also called Mass Media):
He/she is in charge of getting the HP known to and covered by the mass media, establishing regular contacts with journalists, writing and sending press releases, organizing press conferences and interviews which other secretaries may give, etc.
On the other hand, this secretary plans for wall writings, sale of our newspaper, hand-made poster sticking, banner hanging, leafleting, etc, for cresting and maintaining public awareness of the HP.
Provided the above mentioned secretariats are covered, the following may also be assigned:
5. RELATIONS SECRETARY (Also called Public Relations)
This secretariat establishes regular contacts with other political parties and any other organization of interest in the neighborhood The same may apply for government officers and personalities. Through its agency, information, good-willingness and joint actions may be the outcome.
6. SOCIAL ACTION SECRETARY:
Being aware of social problems and aspirations - through opinion polls, etc - this secretariat may help solve them through organizing co-operative efforts in the fields of production, consumption, services or a particular action towards solving conflicts or materializing benefits. Primarily, the secretary in charge aims at organizing and clarifying the beneficiaries themselves, that is, those concerned.
7. PUBLICATION SECRETARY:
This secretariat carries out all printings required by the base council (leaflets, posters, banners, etc). It may include the design or art work. On the other hand, it collaborates with "The Humanist Voice" in writing articles, translating, sale and subscriptions, etc.
8. ADMINISTRATION SECRETARY:
He/she prepares and circulates the minutes and reports of the base council, collecting from and distributing to all secretaries, activists and affiliates relevant information on activities carried out, news, notices, calls, etc.
9. FINANCE SECRETARY:
A secretariat which plans and implements fund-raising activities and programs, establishes contacts with possible or actual donors, and keeps updated accounts of the base councils income and expenditure. He/she may conduct these tasks individually or along with other activists (i.e., a fund-raising operation).
10. CLARIFICATION SECRETARY:
He/she may study our ideology thoroughly, understanding its implications regarding issues to be taken, framing our stands under its light, contributing to the base council's program adapted to local conditions, etc.
The secretary may even prepare clarification materials and organize meetings where ideological points are better explained and debated.
All the above mentioned secretariats may count on as many joint secretaries as possible or required, and all of them have a provisional character until and unless ratified by internal elections.
The base council secretaries work as a team, each one proposing, discussing and deciding from each one's point of view given by their different functions. Every campaign or activity carried out will involve every one of them equally, but in different capacities.
While carrying out joint actions, they may simultaneously do what any plain activist (not a secretary) may be doing, or may simultaneously orient a group of activists in their action, but the secretaries always continue fulfilling their specific functions as such.
The basic task of the base councils as such, and for each activist in particular, is to make new members of the HP, invite new members/affiliates/supporters to the nearest weekly meeting, explain them the mission of the HP, integrating maximum people in the regular activities of the HP in the area.
Ideally, every activist should get new affiliates, sell the Song CD of the party, invite new people to participate in the current activities and actively support the base council needs and actions.
On the day of election, activists will be required to man the polling booths (as per election commission law), to ensure that no untoward incident takes place, that people are able to vote peacefully, exercising their choice without any pressure or inducement, that all our supporters reach the polling booth to vote.
Any activist should be encouraged and supported for forming his/her own base council - starting with a minimum of 4 members - which will branch out from the original one.
The new base councils formed - specially those operating in places far away from higher councils - enjoy great autonomy and tactical freedom for implementing activities fitting their local conditions.
The broad framework for the activities in only given by the HP's 5 Basic points and the need to grow.
That is, any activity in agreement with 5 Basic Points and which makes the base council grow is a good one.
All the party offices assigned in new base councils have a provisional character until the HP's organizational elections which will ratify the officers (secretaries) or change them according to the electoral results.
The very first task of any newly formed base council nucleus (4 main secretaries) is to get volunteer activists to cover the other remaining secretariats.
A good task for every secretary is to get at least one assistant secretary for his/her functions. In this way, they are already preparing replacements for the present secretaries in case of rising to higher councils or when absent, etc.
The Clarification Secretary should be given time in every weekly meeting to introduce/conduct a subject of Personal-Transformation (12 Principals, Relaxation, Guided experiences etc. from Orientors' Manual, available on the website).